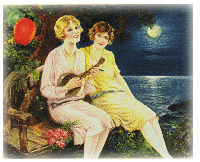 What is Camp Uke?? Camp Uke is no more fun than say, you or I would have on a cool and moist day in May, surrounded by moss, lichen and decomposing wood. What's more, under the careful direction of the cheerful chef du champignon, Don Pauldo de Boletus, that sweetly odorous wood is transformed by the miracle of saprophytic indulgence into the finest fungal forms imaginable. Perhaps there is more to say, and perhaps not. Still, in the words of the inimitable Clitocybe Nuda, it has been roundly declared, "..if these are mushrooms, then this Must be Camp Uke."
It's a good idea to check in at your cabin first. Choose a bunk, and meet your bunk-mate. Then you'll be ready for some ol' camp-time activities.

If you should get lost on these labyrinthine woodland trails, just follow this Cryin' Camper.

Activities