Welcome to the . . .

HOW TO MAKE A COLLAGE UKE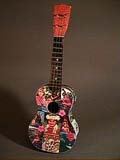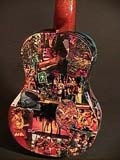 The collage uke is a project for the artist at heart. Whether or not you consider yourself to be a person of artistic ability, you can make lovely artwork and perform musical selections on your canvas at the same time- the collage way! Maybe you are peace activist who attends rallies to save our planet. Well, in that case, you could plaster your uke with the slogans of your cause and strum to beat of the chanting demonstrators outside the capitol building. Or perhaps you are a devoted Chicago Bulls fan, in which case you could cover your uke with all those awesome images of Michael, Scotty and Dennis as they dish, dunk and deliver in their inimitable triangle offense. Whatever your love, cause, or theme, the collage uke is a way to express yourself like no other. Why wear a sandwich board or some flunky T-shirt, when you could be sharing your favorite images and slogans with the world via this truly musical 3-D poster?!
What You Need:

a uke
collage clippings from magazines, newspapers, catalogs etc..
some contact cement and a pencil
What to Do:

Gather your collage elements and lay them out on your uke. You may want to decorate just the soundboard of your uke or the entire body, or even the entire instrument- it's up to you. With your pencil, mark on the uke the edges of the collage pieces you intend to adhere. Once you've got the entire job laid out with pencil marks, you're ready to begin applying the contact cement. Put some cement on the back side of the collage piece and on the uke where the collage piece will be applied. When the contact cement has dried, carefully place your collage piece on the uke, starting with one edge and working in one direction to the opposite edge. Work slowly as you apply the collage pieces to the uke because when the two cemented surfaces come into contact they will instantly bond and be very difficult to move or remove. As soon as you've got your collage pieces in place, you're ready to restring your uke and get on over to that rally!