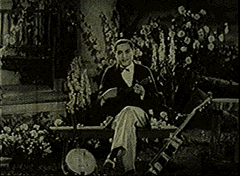 "Smeck Shorts"
To watch "Smeck Shorts" is to take a trip through musical time, on the cutting edge of technique, artistry, showmanship and technical innovation. Let Roy tuck you in and kiss you goodnight, as you pass from your own routine into the dreamy state of Smeck. Roy begins the journey at the very jumping off point of filmed musical entertainment with his appearance in the 1926 film short, "His Pastimes."
Next, we follow Roy to three film studio dates. In the first, he entertains alongside Ray Perkins, Milton Charleston and the Three Heatwaves in the happy-go-lucky "Club House Party." Then, we are treated to Roy's imitation, on the uke, of "Bill Robinson's Tap and Stair Dance"--a number which generated quite a bit of publicity for Roy and Bill alike, and was nearly a staple of Roy's road show. Lastly, we join Roy for his appearance in "Television," where he reels off his version of "Bugle Call Rag" on the electric lap steel. You'll thrill at the 3-way, split-screen special effects.
From the short film "International Rhythms," we have Roy and his Aloha Islanders doing a gentle, swinging "Farewell Blues." In another production, there is Roy--"Radio's Wizard of the Strings"--doing a snappy uke-walk through the "Park in Paree." But he's not strolling alone: he's struttin' his stuff with three other Roys playing banjo, standard guitar and Hawaiian guitar. The finale to this one hour tribute is the short film entitled "That Goes Double," with Russ Columbo in the lead role. Roy provides some of the musical/theatrical amusement, fingertipping his way through a fine ukulele solo. The sherbet of "Smeck Shorts" is "Papa Ina E," the Tahitian Chant, performed by Danny Kuaana's Hawaiians.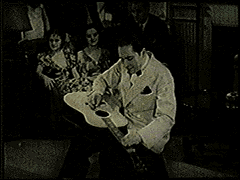 "Roy Smeck: Wizard of the Strings"
This unique film biography of Roy was expertly written/produced by Alan Edelstein and directed/edited by Peter Friedman. It was nominated for an Academy Award in the category of Documentary/Short Subject. The film opens with Roy vigorously strumming his guitar in his New York apartment in the early 1980s. From there, we jump back to the twenties with images of Roy and his Vita guitar in tow on the railroad tracks by which he made his fabulous living. It was those tracks that brought Roy to nearly every showplace, music store, and gymnasium across the wide country to meet up close the townspeople and cityfolk that made him a hit wherever he went.
Between the two scenes lie sixty years and miles upon miles of travels, performances and musical memories created by an artist driven to excel on as many stringed instruments as his fingers and nerves would allow. Roy was a tireless practitioner who touched the lives of many other entertainers. There is Mel Bay, strumming an acoustic archtop guitar as Roy ukes along. Gene Autry makes his statement for Roy calling him, "..perhaps the greatest steel artist of his day." There are informal chats with Arthur Tracy, touching insights provided by Fay Smeck, and snips from the Vaudeville Reunion tour of 1982 as it appeared to the audience at the Academy of Music in Northampton, Mass. As the credits roll, we watch the contented, enthusiastic Wizard as he listens to some of the ukulele magic he created in days gone by.
To get an all too small taste of the two videos, you can download the quicktime movie clip Those Hands. This 25 second Epic has clips from both videos. Be warned - the movie is about 3 megabytes - you might be able to save time by mailing in for the videos. "Smeck Shorts" and "Roy Smeck: Wizard of the Strings" are both available from The Ukulele Hall of Fame Museum, 369 Summer St., Duxbury , Ma 02332. Cost is $24.95 each, plus $3 postage. Or inquire at syphers@world.std.com