"TINY TIM'S SONGS & STORIES OF THE CROONERS"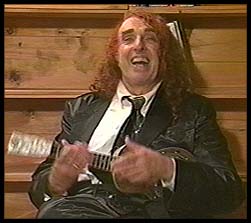 Tiny Tim
Click here to download a 12 second quicktime clip from the video (approx. 1.8 Mb)

"Songs and Stories of the Crooners," the last recorded interview and performance of1960's icon and ukulele legend Tiny Tim, is now available on video. It features Tiny and his ukulele singing 24 songs and snippets interspersed with remembrances of his life and musical influences. This 38-minute entertaining and enlightening video shows that Tiny Tim was much more than a "one hit wonder." In addition to his trademark falsetto singing voice, Mr. Tim had a strong baritone and expertly mimics the great crooners Bing Crosby, Russ Columbo and Rudy Vallee, as well as many other singers. He tells why he started playing the ukulele and, with songs and stories, demonstrates his encyclopedic knowledge of the history of the great era of American popular song from the 1890's to the 1940's.
Recorded at Ukulele Expo '96 just two hours before he suffered a non-fatal heart attack in front of a standing-room-only audience of admiring fans, it was Tiny's wish that "Songs and Stories of the Crooners" be produced expressly for the benefit and promotion of the Ukulele Hall of Fame Museum, a non-profit organization dedicated to the preservation of ukulele music and history.
Although perhaps best remembered for his 1968 novelty hit "Tiptoe Through The Tulips" and for his wedding to Miss Vicky on Johnny Carson in front of 40 million viewers, Tiny Tim continued recording and entertaining as America's troubadour to the end. While singing "Tiptoe" at a comeback performance on November 30th, 1996, he suffered another heart attack and died, ending an amazing career which spanned five decades. Tiny Tim remains one of the most instantly recognized personalities in entertainment.
"Songs and Stories of the Crooners" is available on VHS from the Ukulele Hall of Fame Museum Shop.

Visit Tiny's Memorial Page