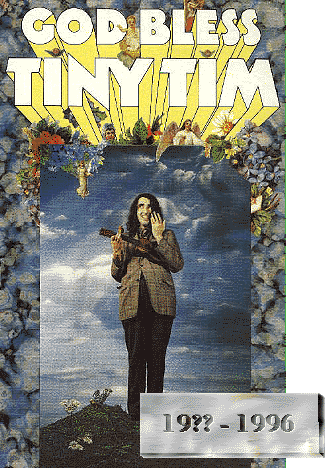 Tiny Tim, one of America's peculiar geniuses, passed away on the evening of November 30th, 1996.
After a long period of relative obscurity, Tiny was once again stepping into the spotlight and finding a following among a growing segment of the American public which rejects the corporate-driven music industry. He appeared at the Ukulele Expo '96 on Sept. 28th 1996, and gave his last taped interview (see below) with Paul Syphers, organizer of the event and founder of the Ukulele Hall of Fame Museum. Tiny expressed his hope that the interview might help to raise awareness of, and interest in, the museum. He was to have performed at the event, but was prevented from doing so when he suffered a heart attack that evening. After spending a week in hospital, Tiny was recovering at home and had been feeling strong and optimistic.
Apparently, though, his heart was not strong enough to contain his boundless enthusiasm and love for music.
With his ukulele (the quintessential "alternative" instrument) and a dynamic voice (the quintessential "natural" instrument), Tiny stood for integrity and individualism. His legacy is to remind us all that as we dash headlong into an ever more technologically sophisticated future, we should not forget to stop and smell the flowers. Tulips, of course.
Long Live Tiny Tim!
Messages of condolence may be sent to The Ukulele Diner. We will do our best to see that they are received. They will be posted here on the Memorial page, as well. (If you do not wish your message to be posted here, simply let us know.)
"Songs and Stories of the Crooners"--a full-length interview, recorded at the Uke Expo '96. Follow this link for a description and Quicktime clip from the video as well as information for ordering and supporting the Ukulele Hall of Fame Museum.
An article on Tiny Tim appears in issue #3 of the zine "Cool and Strange Music," available at Tower records, or write to "Cool and Strange Music" (see our links page).
Mr. tim was a huge influence on my life. The first album i ever bought was God Bless Tiny Tim, in 1968. Man what a killer lp. Tiny, ill miss you.
--wesley b willis
if we don't know when he was born, will we ever be sure that he really died?
--John Erbuer, The Ukulogical Museum, Belgium
Farewell Tiny Tim, You were a true gentle man and an inspiration to people who cherish their individualism. I doubt if you ever knew how many lives that you had touched over these many years. God bless you Tiny Tim.
--James McMeachin
He will always be remembered as a charming and very down to earth man. The world should be proud that Tiny Tim blessed us with his presence. If only for a short time.
--Jacki Billings
I was deeply saddened to hear of the recent death of Tiny Tim, a man that no one can deny was a true original. When others felt compelled to create music based on whatever was popular at the moment, and to dress with the same lack of originality, Tiny flew in the face of peer group pressure. But perhaps that's because he HAD no peer group. . . .
He will be remembered for his sunshine personality, his ability to laugh at himself along with us, (although he was completely sincere), and his love for music of all kinds.
Our deepest condolences go out to his widow, Susan Gardner Khaury, and to his daughter from his first marriage, Tulip Victoria.
--Dana Countryman, Publisher "Cool And Strange Music!"
Thank you Tiny Tim. Rest in Peace among the tulips.
--D.P. Rossi
Tiny Tim was truly an inspiration for all musicians. My condolences go out to his family. He will be missed and he will always be remembered.
--Jason Gore, d.p.w.
My condolences go out to the family and loved ones of Tiny Tim. His passing is a truly sad mark in the history of music: the world has lost one of its most faithful troubadours.
I had the good fortune to have met and spent the day with Tiny when he was preparing for a show in North Adams, MA in 1989. I was a young reporter, not very good with celebrities. He was an amazing interview: I still listen to the tape now and again, as it had far too much material for any newspaper article. He was kind and polite, treating strangers as you would a friend. I could have been some hack out to make fun of him, but he was always polite to me, complimenting my questions, and calling me "Mr. Bill Sweet."
That time changed my life in a way, as the growing collection of ukuleles in my living room can attest. :-)
The world has lost a treasure-trove of music history, and a gentle man. Our prayers go with him.
-- William Sweet
Goodbye Tiny - a giant of individualism
--Tony Williams
Condolences go out to Miss Sue and (wherever she is) Tulip. We should all plant tulip bulbs in his memory. God bless Tiny Tim.
--Gary Flinn
In 1987 I interviewed Tiny when his Great American Circus hit my hometown. He couldn't have been more solicitous, talking about his background and music interests (he said he listened to U2 and Bon Jovi). I asked him if he had any advice for up-and-coming performers. "Yes," he concluded, "be original." In an era of conformity Tiny was certainly an original. He will be missed!
--Andrew Milner
So often, genius is never recognized nor appreciated during ones own lifetime. Here's hoping that love and understanding are yours on the other side Tiny Tim. There are many who will miss you and understand the value you added to our lives.
--The Wizzard of Ozzzzz