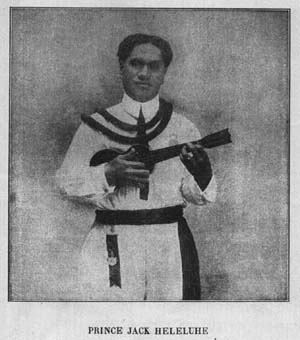 Prince Jack Heleluhe--a "kanaka" of the Hawaiian musical scene and road-worthy veteran of the mainland--was certainly one of the earliest musicians to spread the Hawaiian sound to haole ears. In 1901 he played the World's Fair in Buffalo, NY as one of the ten-member touring Royal Hawaiian Band, under the direction of Mekia Kealakai. The combo included 4 ukes, 2 guitars, flute, sax, cello, and fiddle. We can only guess at the all-night uke jams which took the band from city to city ninety-six years ago . . . .

Prince Jack became a household uke name when, in 1914, his picture appeared in the book "A Practical Methood for Self Instruction on the Ukulele and Banjo Ukulele" by N.B. Bailey, published by Sherman, Clay & Co. in San Francisco. The book offered this essential, "diner-ly" wisdom: "Unless accompanied by a ukulele, the native hula and luau dances would be like meat without salt."
Our hats off to the original ukulele "pin-up boy"--Heleluhe!!